About the Author
As recommended by the QI Elves on Twitter:
Make sure you download your FREE Cryptic Companion to Bless the Buccaneer with Barbecued Blood, with almost 700 cryptic questions on the words in the book, but you'll have to buy the book to find the answers. You can also follow the Cryptic Q of the Day on my Twitter account at Marcoloe, with answers and explanations the next day.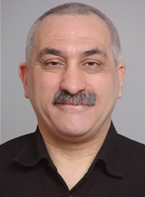 Long ago, in the mists of the distant past when I was eight or nine years old, I was at a friend's house. There, I saw a Superman comic - nothing unusual about that as I had read quite a few. However, this one was different - it was called Delta, except that that's not what I saw because it was in Greek - Δελτα. I was fascinated to see a different alphabet for the first time, and it started off a lifetime of investigating and learning about language, and learning languages.
At school I studied Latin and Greek to advanced level, and went on to study Russian and Linguistics at university. My career in teaching English for over thirty years has given me a wonderful opportunity to investigate and analyse the history of our wonderful language. A few years ago I started a project to trace every modern English word derived from Latin and categorise them under their original Latin roots. After I completed the research, I started writing a book about the journeys of these words into modern English, but then I put the Latin project on the back burner and decided to start another one, widening the scope to research words with strange and unusual histories from a variety of languages, and this is the result. Well, half the result, as I've only covered half of the words that I've researched. Anyway, I hope you enjoy it and come back for more when it's ready.