Welcome to Bless the Buccaneer with Barbecued Blood
New! Check your knowledge of English etymology with five quizzes. Click on the link in the right column.
As recommended by the QI Elves on Twitter: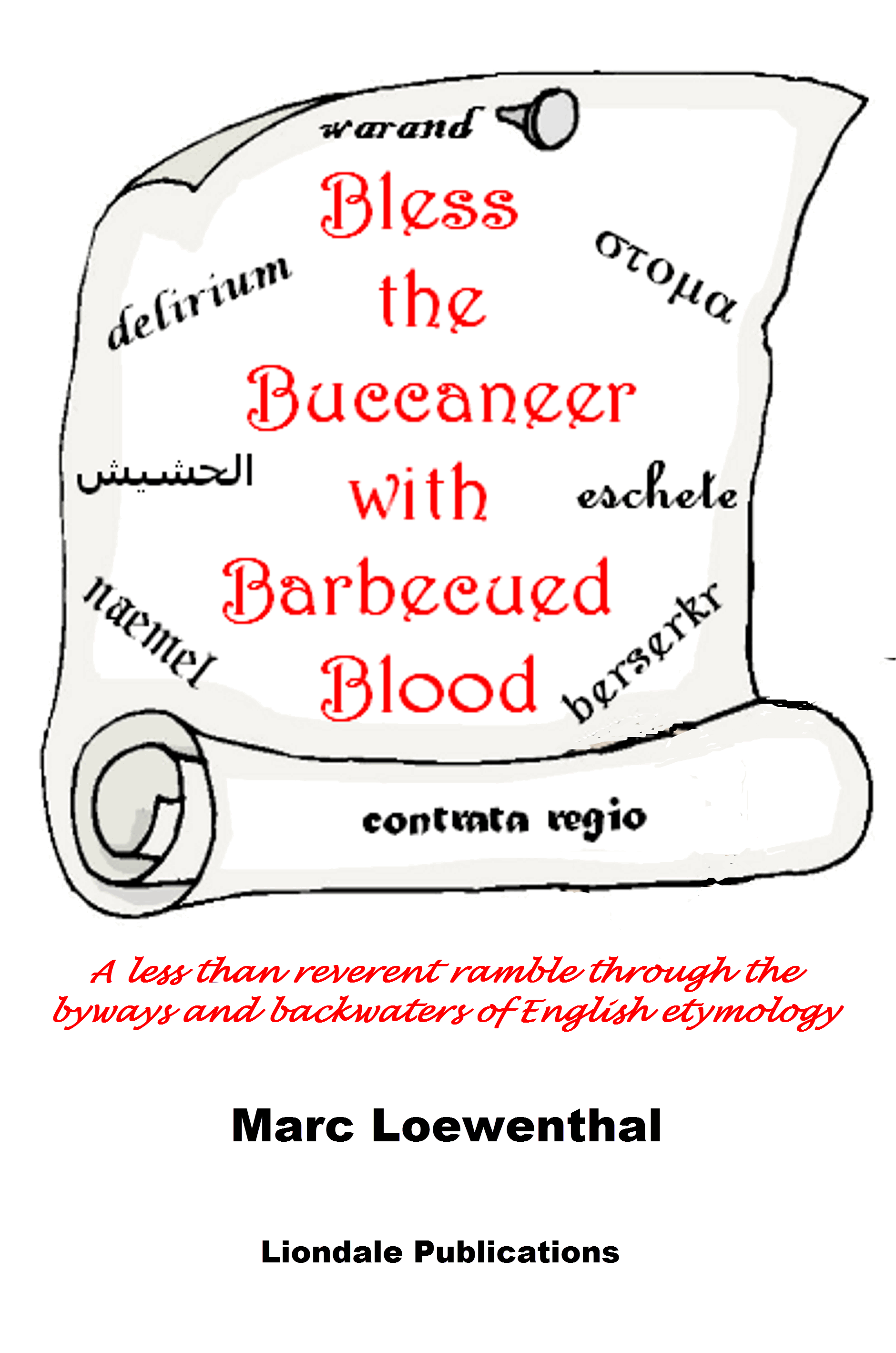 What we regard as the English language has grown, changed and developed over two thousands years from a dialect in northern Germany to the world language it is today, though its history stretches back even further into the past. On its long journey from ancient to modern times, English has picked up thousands of words from a variety of languages, with their fascinating histories showing the often radical changes in meaning that have taken place. What this book aims to do is to take a rather irreverent, humorous, entertaining and yet informative approach to this wonderful and endlessly intriguing topic of English etymology, imagining unlikely scenarios, bringing long-dead meanings back to life and playing with the results. I hope you enjoy reading it as much as I enjoyed writing it.
A less than reverent ramble through the byways and backwaters of English etymology
The book looks at the history of over 900 English words, some common, others less common, but no less fascinating. While there are numerous historical references and word forms from Old and Middle English, Old and Middle French, Latin, Germanic languages, and a variety of others, this should not daunt the reader, as it is an inevitable aspect of reading about word histories. These forms are discussed and explained as simply as possible. There is also a short history of English, as well as explanatory notes on individual languages and the pronunciation of word forms from these languages.
The scenarios presented are usually fantastical, to say the least, mixing up modern and historical meanings and situations. See if you can separate the real histories from the fanciful ones - it's not always clear, but that's part of the fun. Have a regular look at the cryptic questions on this site, try to work out the answers from the book and feel free to recount some of these histories to your nearest and dearest to show how erudite you are. More than anything, I hope that your imagination will be fired up to find out more about how our modern language came to be. And don't forget to look out for the second volume. Watch this space.
How to get the book
At the moment the book is available print-on-demand from lulu.com and in Kindle format from Amazon. Click on the Buy the Book link above and follow your desired link at the bottom of that page.
Make sure you download your FREE Cryptic Companion to Bless the Buccaneer with Barbecued Blood, with almost 700 cryptic questions on the words in the book, but you'll have to buy the book to find the answers. You can also follow the Cryptic Q of the Day on my Twitter account at Marcoloe, with answers and explanations the next day.